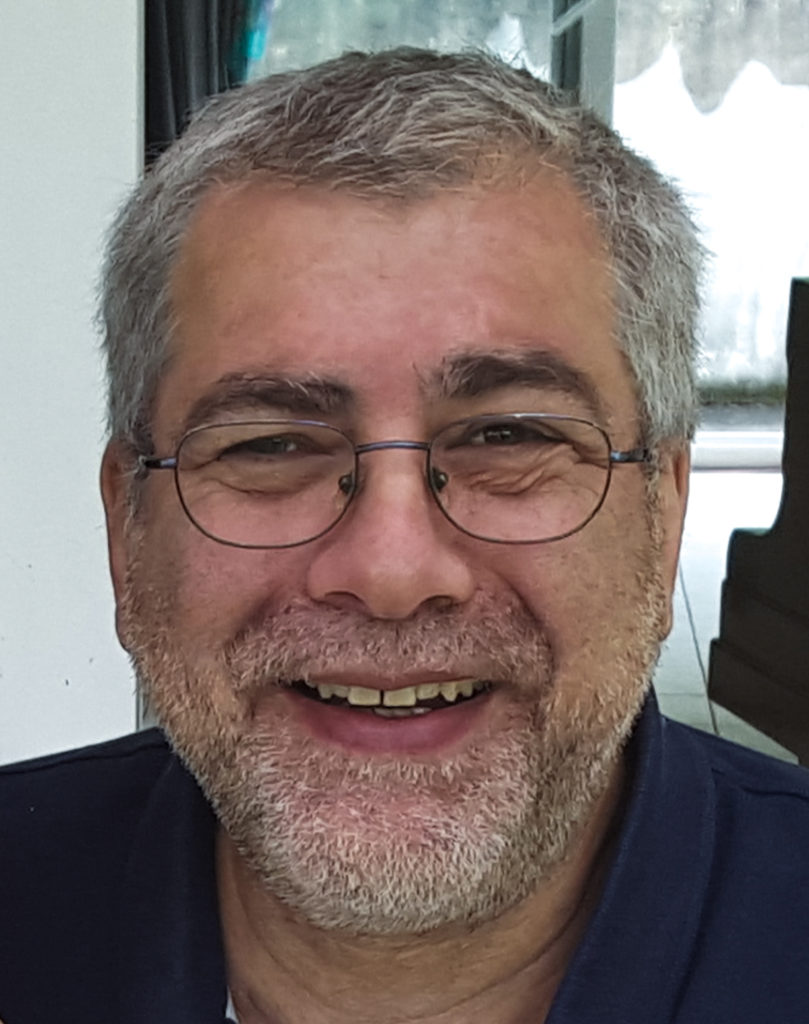 Born in Paris in 1954, Marc Mandel is a composer with an atypical career.
It begins with the study of classical piano at he age of 7 years, but as soon as he entered 6th grade, at Jean-Baptiste Say High School in 1966, he left Beethoven's sonatas for Dave Brubeck (Blue rondo in the Turk, Take Five) and Thelonious Monk (Round about Midnight). Francis Cousté, his high school music teacher gives him piano lessons.
Thus, he learns the harmonic calculations and learns all the agreements.
From the age of 16 he began to compose and only worked his own songs.
Francis Couste begins to teach him harmony with work on lines of songs and imposed bass lines.
But radio, his other passion, becomes his main focus at the expense of music and even his studies.
Marc Mandel has only one idea in mind: to become a radio host.
And indeed, in 1971, he is 16 years old, and he is engaged by RTL and becomes the youngest radio host.
It will remain 4 years at RTL, making occasional replacements on the air, but mostly reports, interviews and editing.
In 1975, he left RTL and became director at Europe 1.
Alongside the radio, he works the rest of the week in the professional publishing company.
Then new turning in his life. He abandons the radio, to devote himself more to his music.
But he quickly understands that the time when composers would propose their music to publishers by playing them on the piano is over. We must now propose very elaborate models.
He invests in recording and music equipment and sets up his home studio.
He uses synthesizers not for what they are, but to try to imitate orchestral instruments. And that's how he starts learning self-taught arrangements and orchestrations.
His new goal is to become a composer of film music.
The agency Havas selects it for the creation of an advertising music: Double fruits of Fruity. 300 radio spots and 64 tv spots for 4 years.
He also writes music for "Prince" cookies.
He is very close to recording the music of a feature film with Marlène Jobert and Victor Lannoux: "A dirty affair".
The director asks for a new model of his music that he "loves" and has validated. The latter wants a professional recording to convince the producers. It is a jazz music, series B style. He had written for a quartet and managed to gather four jazz "monsters" in the studio: On drums Daniel Humair, on the double bass: Henri Texier, on tenor sax François Jeanneau and piano René Urtregger. To finally convince the director of the strength of his musicians, he brought him to enjoy them, one night in the jazz club: "the Devil of the Lombards." The director is dazzled and suddenly comes the idea of ​​replacing the music written for his film by Marc Mandel, improvised music on the screen as did Miles Davis for "Lift for scaffold". So the BOF "A dirty deal" will be without Marc Mandel.
In 1984, he had fun composing a parodic twist and a reggae and produced himself a 45t: The twist of the haberdashery – by Marc and the super Markettes.
In 2001, he adapted the Mozart symphony 40 in salsa, respecting all the harmonic progression of the first movement.
For this new self-production, he calls on very great jazz musicians who play at the time (among others) in the big band of Michel Legrand: The trombones tenor and bass are interpreted by Maurice Castel-Cevrero, the alto sax, tenor and baritone by Hervé Meschinet and the four parts of trumpets by Claude Egéa. He baptized the album: Salsa 40 by the Wolfgang band
In 2003, he made an album by declining "Happy Birthday" in 25 different styles (Jazz, symphonic, lyric, Viennese waltz, twist, samba, java, bossa-nova, hard rock etc.) For each title he composes a theme B in the style of the chosen declination.
During all these years, he continues to work for the publishing company, where he ends up taking the lead. And in the same he composes an industrial film music for EDF, a music Manufrance, a documentary for television (FR3).
He currently has more than 300 music and songs, including a concerto for Piano and Orchestra, a symphony, an adagio for strings, a music of "book": the 3 musketeers. Not to mention instrumental pieces ranging from jazz to classical to virtual film music.
For some years now, thanks to computer science, he has been realizing an unattainable dream before: to hear his music played by a symphonic orchestra.
Marc Mandel uses only the mouse, with which he writes each note for each instrument, as it would be on music paper.
So he was able to compose a concerto for Piano and Orchestra
And it is with this same technique of writing that he wrote in 2014 "the stake", an opera in 3 acts, in a neo 18th style.
To be continued …